Canceled: Fredonia Wind Ensemble with Ortenau Symphonic Youth
The Germany Youth Wind Orchestra of Orentau, known as the Sinfonisches Verbandsjugendorchester Ortenau, will join the Fredonia Wind Ensemble, directed by Dr. Paula Holcomb, in a portion of a concert it will present on Tuesday, Oct. 29, at 8 p.m.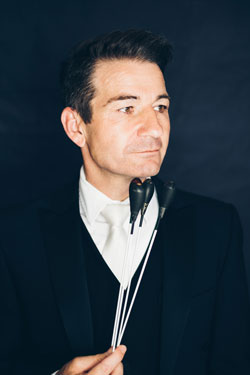 Rüdiger Müller
The concert, in King Concert Hall, is free and open to the public.
Currently touring the United States and Canada, the SVJBO is comprised of about 100 young musicians from the Ortenau region in Germany who come together once a year to develop a challenging program of symphonic wind orchestra literature.
Conducting the SVJBO is Rüdiger Müller, a contra bassoon specialist who has performed with the Landesblasorchester Baden-Württemberg, Staatstheater Saarbrücken and many other European orchestras. For the last 20 years he has pursued conducting with a passion.
The Fredonia ensemble will join the SVJBO in the final selections of the concert that feature marches from Germany and the United States.
"Having the opportunity to perform side by side with a musical colleague from another country is what will quickly change the world as we bring hearts together through music," said Paula Holcomb, director of Bands at Fredonia. "Do come and visit with these extraordinary musicians as we build bridges through music and community!"
Tuesday, October 29, 2019 at 8:00pm to 10:00pm
Rockefeller, King Concert Hall, Rockefeller, King Concert Hall
Rockefeller Arts Center, Fredonia, NY 14063