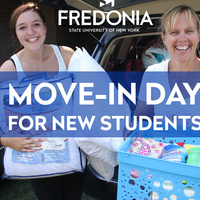 Move-in day for all new students who are living on-campus is from 9:00 AM - 5:00 PM on Thursday, August 23. All students will report directly to their...
New Student Orientation is a 3-day program for all new students beginning Friday, August 24 and concluding Sunday, August 26. FULL PROGRAM SCHEDULE ...
Did you know Fredonia has over 190 recognized clubs and organizations on campus? They will all be set up in Dods Hall grove (or Steele Hall Fieldhouse in the...